You may join or renew your DAFE membership online. Simply click the Join DAFE navigation button to the left!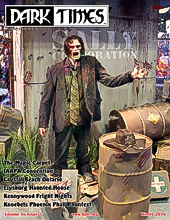 On The Cover:
IAAPA Convention.
In This Edition:
News & Rumors
Magic Carpet
IAAPA Convention
Crystal Beach Ontario
Elysburg Haunted House
Kennywood Fright Nights
Knoebels Phoenix Phall Phunfest
Would you like to receive your own copy of Dark Times? Click here...