You may now join or renew your DAFE membership online. Simply click the Join DAFE navigation button to the left!
While it seems as though spring will never arrive this year, it is time to start planning warmer weather events like our Ghost to Coast event in June at Lake Compounce and Deno's Wonder Wheel Park. see the link to the event flier on the right>>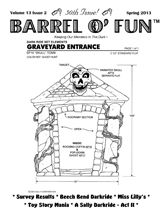 On The Cover:
Every detail of a Sally Corp. darkride is well-planned and documented.
In This Edition:
News & Rumors
2013 Member Survey Results
Ads from the Past
Screaming Around the Beend
The Best Ride Imaginable
A Sally Darkride - Act II
Out of the Dark
Miss Lily's Seance Parlor
Patents from the Past
Would you like to receive your own copy of Barrel O' Fun? Click here...