Funhouse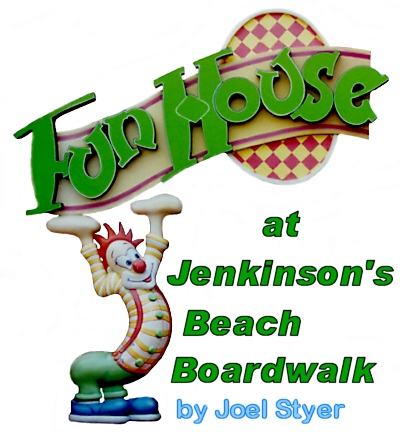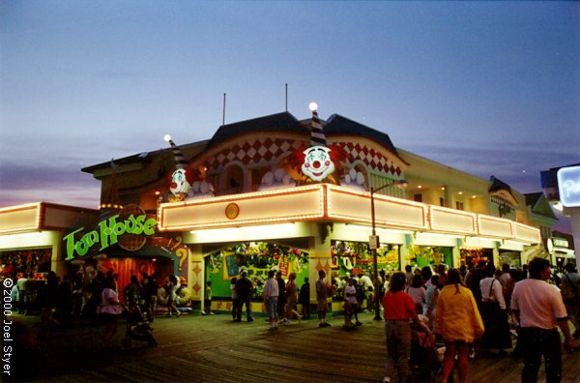 At one time, the funhouse was a popular fixture at many amusement parks. In recent years, their number has thinned considerably, mainly due to liability issues. Many funhouses that still existed in the 1980's suddenly saw an increase in insurance and many had extensive fire protection measures. Unfortunately, it was far more cost effective to remove the rides. Today, there are just a handful left that have some of that old time funhouse flavor.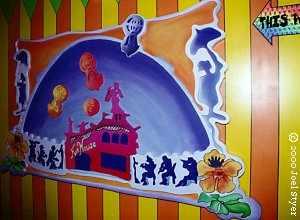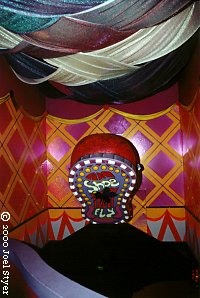 In the late 1990's, the owners of Jenkinson's Boardwalk in Point Pleasant, NJ decided they wanted to build a funhouse, one of the only new ones to be built in years. They realized the challenges they needed to overcome and designed their new attraction. While they obviously couldn't include some of the traditional funhouse elements such as the rotating barrel, where you can do hand stands in or the human roulette wheel, they got as close as possible while never compromising safety.
The most interesting aspect of their funhouse is that they came up with new ways to have fun and did things that haven't been done before. The sum is that the Funhouse has an old fashioned feel in some areas and is distinctly modern in other parts. While some areas have a common theme, the overall theme is fun and the goal is put a smile on your face, something it easily accomplishes.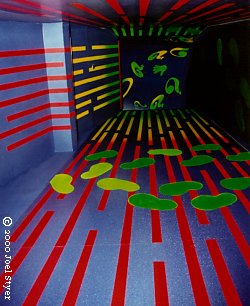 The outside of the Funhouse is designed to fit in with the boardwalk where it lives. It is flashy and attention grabbing. It begs you to walk in and investigate some more. At night, the facade takes on a whole new look as it is illuminated. Just after entering, you reach the ticket booth. Also here is a great sign explaining how before video games and music videos, people enjoyed Funhouses. Way cool. After paying, you walk through a black curtain and your journey begins. And a long journey it is.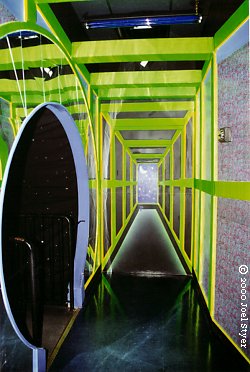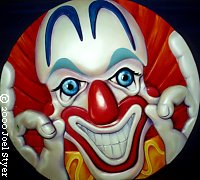 In some ways, this Funhouse has attributes of a dark ride and has interactive elements as well. All combine to make it unique and of course fun. The tongue in cheek humor begins right away. Upon entering, you see a "shoe fly". Next is a hallway of all bright neon colors with feet, hands and question marks.
Another twist and turn and we arrive at a long, strange hallway, but is it? Upon close inspection, it is a painting using forced perspective to make us think it is a long hallway. In reality, out path turns to the left and enters a barrel. While we cannot walk, toss and turn in the barrel itself, the path does lead through it. While the barrel rotates in one direction, an image of the clown pinching his cheeks on the far side rotates in the opposite direction causing a bit of disorientation. As before, the exit path is not immediately obvious.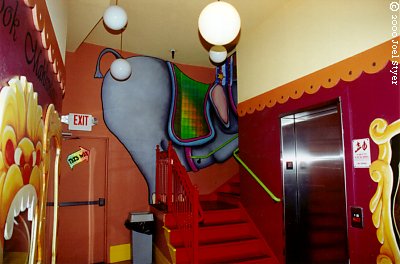 After passing a clown, things start to take on a different look, intense colors with a distinctly black light look. The railings and trim jump out and glow. As we walk down the hallway with the red & white tiles, we are in for another classic funhouse surprise, the shaker boards (moving floor). The floor moves just enough to clearly get your attention but not enough to throw you too much off balance.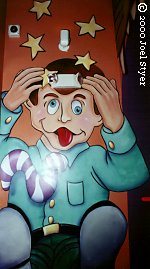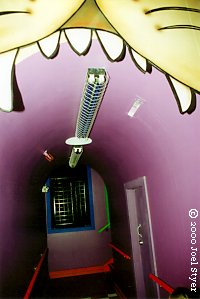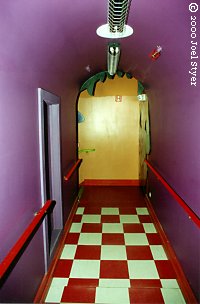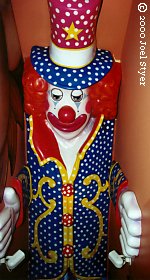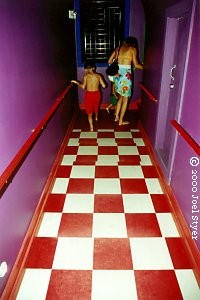 A few more steps lead us to the maze, an area of small rooms each with very colorful entrance trim. Only the door frames are painted colors, everything else (floor, walls, ceiling) is black. Even though it is a simple maze, it is easy to become "lost" momentarily. One room has a grated floor with a large neon light in it, an illusion to give it infinite depth. Some walls are actually mirrors, to make the maze appear much bigger than it really is, another first class illusion.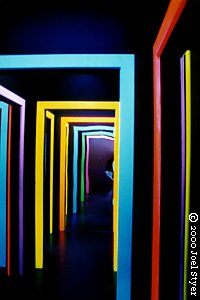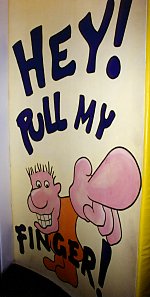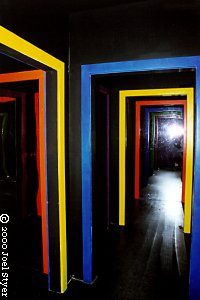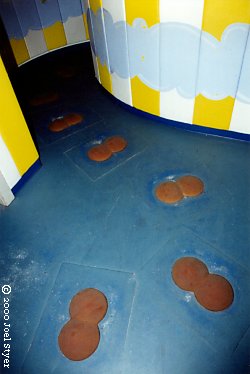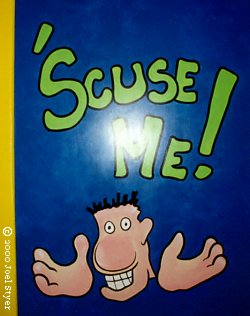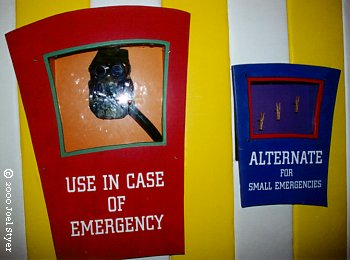 Next we arrive at a mural of a kid with the phrase "Pull My Finger" I won't describe the sound that is emitted when you touch his finger. This is the first of several interactive elements. As a tie in to that gag, we next see some gas mask humor on the wall with a gas mask and some clothes pins. Shortly thereafter "scuse me!" from the same person whose finger you "pulled".
After a short jaunt outside the building to view the boardwalk, we come to a sign for "Professor I. Shrinksem" Seems she figured out a way to transform adults into kids again. Of course we have to proceed to the laboratory to find out. First up, we note the danger signs. It is obvious some experiments are in progress. There are several aberrations as well. Some acid of seems to have eaten a hole in the floor as some toxic containers leaked. There is a lot to see and do in this area such as looking in the microscope, chances are you might see "something" familiar if the timing is right.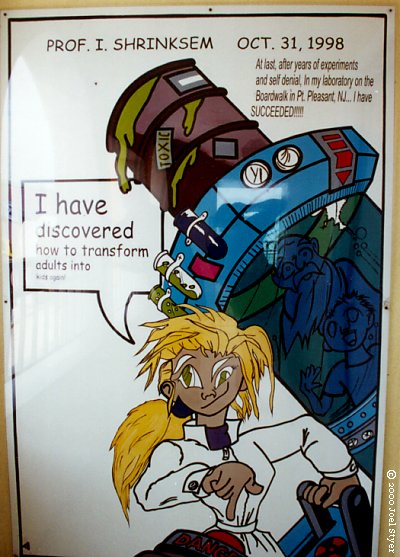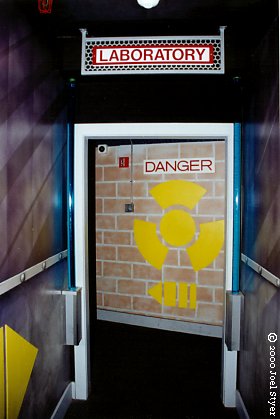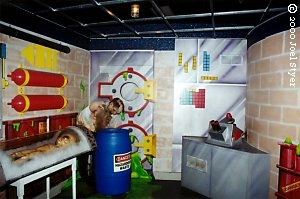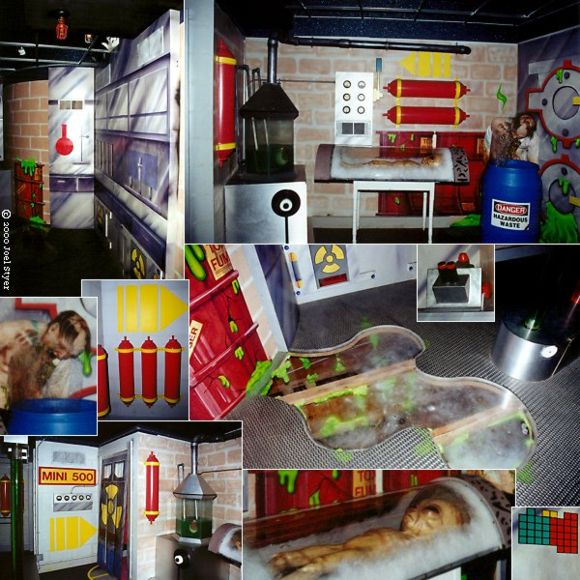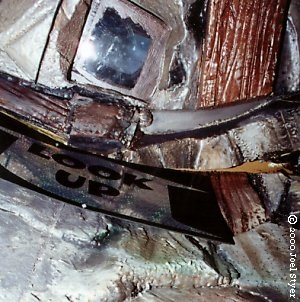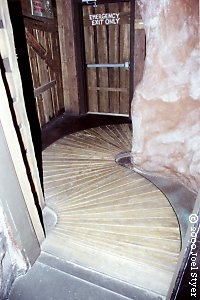 A recently added area is the mine, which holds a few surprises. First is the echo room. Here is when modern technology is used to great advantage. An electronic echo is generated of all the sound in the room. At another point you can look up and see the sky outside. But watch out for that DynamiteTM. As we venture through the mine area, we note that several areas are closed due to the dangerous conditions of the mine which helps keep us on a strategically programmed course. Keep and eye open for some of the openings in the "stone", there is no telling what you might see.
Next we get to the "boiled alive" scene where we are warned "don't touch the jewels" Of course, most people DO touch them and something will happen! We next navigate our way around some heavy hanging bags and through yet another brightly colored hallway with an optical illusion at the end.
We finally enter the last room, an incredible high area fully illuminated in black light. Everything has an eerie glow to it. At this point you have a choice of using the curved stairway to descend or you can ride down inside a twisting turning tube. At the bottom, there are several more rooms, some of which you have to crawl into to see the contents. Finally we reach the exit, after a fairly long Funhouse experience.

Overall, the Jenkinson's Beach Boardwalk has done a tremendous job in creating a modern funhouse and other parks should take notice. In an effort to not let it get stale, each year or so they redesign a section of the attraction to keep people coming back, so don't expect it to look exactly like this article shows. The "mine area" in particular is relatively new. The owners of the boardwalk deserve a big congratulations for not only having the courage to build a funhouse, but to leave the "fun" inside the house.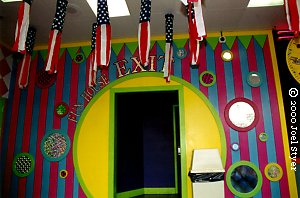 ---
Arnold & Ocean Avenues
Point Pleasant Beach, NJ 08742