Inside the Industry
By: DAFE Board
Find this and many other interesting Inside the Industry articles inside of our quarterly Barrel O' Fun™ publication - one of the many benefits that a DAFE member receives.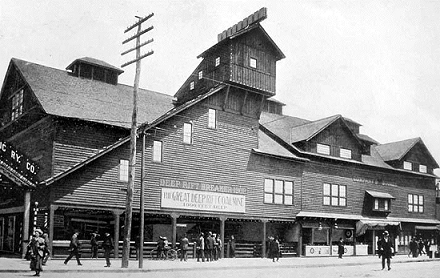 Derek Rochelle takes a well deserved break this issue and allows the DAFE board to ask the questions as we interview Ed Douglas of Midnight Syndicate.
For the past fourteen years, dark music pioneers Midnight Syndicate have been creating Halloween music and gothic, horror, fantasy soundtracks for the imagination. Formed by composer/director Edward Douglas in 1995, their music has become staples of the Halloween, gothic music, haunted attraction, and role-playing game industries. With a catalog of CDs that blend dark, orchestral horror and fantasy movie score-style music with sound effects, the band consisting of Edward Douglas and Gavin Goszka has had its soundtracks to imaginary films featured in everything from Hugh Hefner's infamous Halloween parties, Barbara Walters specials and Monday Night Football to X-Box games, tracks by the Academy-Award winning rap act, Three Six Mafia, and Twiztid as well as concerts by dark music pioneers The Misfits and King Diamond. The music has also been featured on countless television shows and documentaries relating to horror films and the supernatural.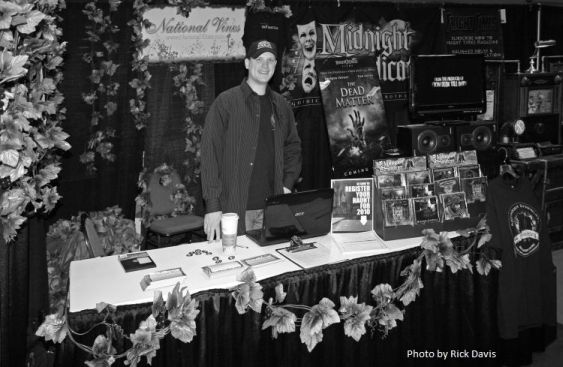 DAFE: What is your background/training? Did you come from a liturgical/classical type of training or are you more self-taught?
Ed:  I began playing guitar at an early age and then moved on to the organ later.   Before forming Midnight Syndicate most of my background was playing in rock bands, although I did score student films in college and the original version of The Dead Matter before releasing our first disc.   Gavin (the other half of Midnight Syndicate) is classically trained in both percussion and piano.   I've always felt that our different backgrounds complement each other when we're composing. 
D: Were there any composers or groups that inspired you?
E:  Movie composers like Danny Elfman, John Carpenter, John Williams, and James Horner, and the classical composers that influenced them, are huge influences for our music.   Gavin and I also enjoy heavy metal music, so bands like Black Sabbath and King Diamond are another source of inspiration.   While I'm a big fan of Sisters of Mercy and the Beatles, Gavin is inspired by early Genesis, Oingo Boingo, and Dead Can Dance.   I'm sure that subconsciously those play a role somewhere in our writing.
 
D: In your opinion, what sets the music of Midnight Syndicate apart from the music of other groups in this genre?
E:  I think we were the first to really explore the whole "soundtracks to imaginary films" concept, to do it album after album, and to accomplish it by merging horror-themed orchestral instrumental movie score-style music with sound effects (inspired by the great radio dramas like The Shadow).  Vangelis and Danzig experimented with something like it for one album and Mortiis released several albums in a similar style but they was more fantasy-based and didn't rely on sound effects as much as we do.   So I think that's what separates us from the others.   The goal of our music is to spark your imagination while transporting you to a world or a movie of your own creation.
D: Rasputina and other "dark groups" have done concerts now and then - have you ever considered playing live or have you done so?
E:  We played out once back in '98 in support of the self-titled Midnight Syndicate album.  It was a big multimedia production that blended short films we shot with instrumentalists that scored the movies live, animation, actors that would move from the screen into the audience and such.   It was a huge undertaking so that's what's kept us from revisiting it in the past.   That being said, we were really close to producing a live show for March of 2011 but in the end, we decided to instead focus our time on making our new Carnival Arcane CD something really special.   All the pieces for a live show are now in place, though, so I think it's just a matter of time before we do perform live again.
D: Dark Masquerade was such a new thing for your fans - where did the idea of adding vocals to some of your existing songs come from?
E: That was Destini Beard's idea.   She approached us a few years ago with the idea and then sent us a test track.  We enjoyed that first track so much we thought it would be a good idea to put several onto an EP and release it.   Destini wrote the story and the lyrics.  It's important to note that Dark Masquerade is really less a Midnight Syndicate CD and more Destini's.  It's her interpretation of our music – not ours.  I mention that only because one of the most important elements to what we do is leaving the interpretation of our music up to the listener.  We never want to impose our ideas on to the listener, which is why we don't utilize vocals/lyrics on Midnight Syndicate discs.  I'm really happy to report that Dark Masquerade has been getting a lot of positive feedback and a full-length follow-up album is in the works.
D: How have computers changed music and composition that is, made things possible for people starting out that would have been beyond the same people 20 or 30 years ago?
E: I feel like such an old-timer talking like this but the technology and the quality of the equipment that is available to the starting musician nowadays was literally unthinkable back when I got into the business.  The value of what you get for your money is incomparable.   I think my digital 8-track recorder (DA-88) cost me $5000 in '95 and that didn't even include a mixing board or the computer to drive it.   When I think of what you can get for $5000 now, it's insane - plus the equipment is better and much easier to use.
I do think the downside of computers is far worse than the advances, though, because of file sharing and piracy.   Piracy has robbed so many working musicians of their livelihood and made it much harder for the musician starting out who has aspirations of making a career out of it.  I just hope that some sort of balance can be found.   We're eternally thankful for the fans and supporters who buy our music (either on CD or iTunes) as that is the only way we are able to keep making music.
D: Why do you think that so many choose Midnight Syndicate music for use in their professional or home haunts?
E:  We were the first to make high-end music CDs for the haunted house industry, so certainly that's how it started.   Before we came on the scene, all that was available were cheap sound effects cassettes recycled from the 60s/70s and Monster Mash compilations.   No one had taken the time to put together quality audio products for the haunt industry.   That was a problem because haunted houses (even home haunts) were getting more and more sophisticated.  Our discs were well-received.  From there we simply built on that – trying hard to make each disc better than the last.   It's a great compliment anytime we hear our music in an amusement park, haunted house, or a home in our neighborhood when I take the kids trick-or-treating.  It seems we've become a part of the holiday for a lot of people and that's a tremendous feeling.  Because it's classically-based and inspired by classic horror, I think our music can appeal to different generations.   That's another big factor I think.

D: Do you ever write music to fit a haunt or is it more that the haunts that fit your music? (The standard chicken-or-egg question.)
E:  We always want to leave our music up to the interpretation of the listener.   One of the most rewarding aspects of what we do is hearing what images our music conjures for others.   Hearing how it sets the mood for other's creative works (like writing, sculpting, poetry, and haunted house design) is awesome.   Although we utilize input from our fans and clients we never want to tie a disc down to one haunt or one interpretation of the music.  The only time we wrote music specifically for a haunt was Universal Orlando's Halloween Horror Nights XIII.   Those tracks are used down at Halloween Horror Nights but have yet to be released to the public.
D: Does it ever bother you that your music is "background" rather than forefront like popular/general music?
E:  No, we're just really happy for the opportunity do what we do and share it with others.  Plus we really have some of the best fans in the world.  I know that may sound clichéd, but I'll explain.   Because we aren't a pop music act and a lot of our music IS often background, we never had the support of radio or the record labels.   The only reason we've been able to do this for as long as we have has been through the support of our fans and having them spread the word to their friends.  It's that haunted house designer who shares the music with his employees, the role-playing gamer that turns his friends onto us in a gaming session that has been our lifeblood.   We're very thankful.
D: Do you have any "unfinished symphonies" hidden in your bench - music that is almost there for a long time but not ready enough that you want to release it?
E: We actually both have a lot of song ideas just waiting to find a home on the right disc.    The first track on the upcoming CD, Carnival Arcane, is a song idea that I had for our 1999 release, Realm of Shadows, so songs can sit for a while before they get released.   There are a couple tracks that I wrote for the new CD that didn't fit in the end.   I'd like to think that they'll find their way onto a later disc in some way.

D: Do you have a favorite score/film? (One where the combination of the music and scene scare the hell out of you.)
E:  James Horner's Aliens is not only one of my favorite movies of all times but one of my favorite scores, and the marriage of the two is something incredible.   I just found a vinyl version of it at the Chiller convention this past summer and have it hanging up in my studio.  
D: We hope to show your movie, Dead Matter, during our Indiana Beach event this summer. How did the Dead Matter movie come about?
E:  An earlier version of The Dead Matter was my first project out of college.   We didn't have any money back then (technology was nothing like is today), so we had to shoot on Super-VHS which really limited us in terms of picture quality.  I believed in the story, though, and made it my personal goal to remake the movie someday with some sort of budget.   Fortunately through the success of Midnight Syndicate, the support of our fans, and the return to Ohio of FX-legend/Hollywood producer Robert Kurtzman (producer of From Dusk Till Dawn, KNB FX)  made that dream a reality.  We shot the entire film in Mansfield, Ohio, (including the old Mansfield Reformatory) back in 2007 with Bob's company, Precinct 13 Entertainment.   The film was released in August of last year.
We're really happy to be a part of the Indiana Beach event this year and hope people enjoy the film.  It's a fun ride with lots of twists and turns, a good bit of humor (just enough), and an interesting story about a bereaving girl who finds a relic that can raise and control the dead.   It seems to appeals to both horror fans as well as folks who don't watch a lot of horror films so we're hoping the DAFE members who make it out to the event are entertained by it and have a good time!  
D: What is the next Midnight Syndicate project DAFE members can look forward too?
E: Of all our CDs, I am most excited about this next one for members of DAFE.   It's called Carnival Arcane and it's a journey through a turn-of-the-century carnival with a sinister twist.   We are both extremely excited about how this disc is coming together.   Between the music and the sound effects, it's an immersive experience.  The cool thing is that the Victorian and Edwardian eras are a big source of inspiration for all our work and it turns out the heyday of the traveling carnivals and circuses was from 1897 through the Great Depression, so we really enjoyed doing the research and it's inspired a lot of what people will hear on the disc.   I have to give a shout out to DAFE's Rick Davis who's given us a lot of great resources including some incredible pictures that we are going to use in our packaging.  We are striving to be as historically accurate as possible so I hope that dark ride, carnival, and circus historians and enthusiasts enjoy that element too.  The CD will be out the first week in August.   I'd like to invite members of DAFE to join us on Facebook (www.facebook.com/midnightsyndicate) as we will be discussing the disc there and releasing preview tracks in the coming months.   It's also there (and on our website) where we have tracks you can preview from our other discs.
D: What scares Ed Douglas?
E:  Things in the real world.  I think it's why everything I do creatively (whether it's film or music) is about escapism.   Giving people an opportunity to escape from the realities and pressures of life for a while – to spark their imagination and allow them to lose themselves for a bit.