Inside the Industry
By: Derek Rochele
Find this and many other interesting Inside the Industry articles inside of our quarterly Barrel O' Fun™ publication - one of the many benefits that a DAFE member receives.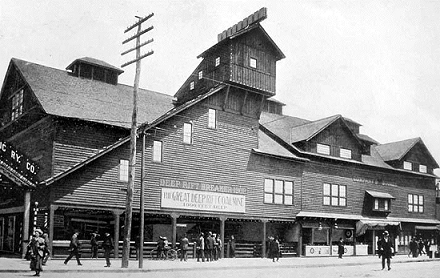 In this issue, Derek interviews Jeffrey Siebert, Director of Corporate Communications & Sales for Schlitterbahn Waterparks and former Area Manger of Marketing Communications for Paramount's Kings Island.
Derek Rochelle:  First of all, Jeffrey, would you mind telling us a little bit about yourself?  How did you get your start in such a fun industry?  With what parks and companies have you worked?
Jeffrey Siebert:  I've known my entire life that I wanted to work in the amusement park/waterpark industry.  I used to pretend I had a variety of rides, waterslides and wave pools in my backyard…at least in my mind.  And fortunately for me, my parents would allow me to run our garden hose for hours on end while I was imagining my next backyard creation.  As a family we would enjoy our traditional summertime favorites Geauga Lake, Sea World, Pioneer Wonderland, Dover Lake Park, Cedar Point, Conneaut Lake, and Kennywood…to name a few, and we would also travel to different cities, see the sights and visit other parks and area attractions.
While achieving my degree in Electronic Media (Entertainment Marketing) from the University of Cincinnati, I began working at Americana Amusement Park in 1994 as the Manager of Advertising, Admissions, Guest Relations, Parking, Sales and Shows (no... not a type-o).  I worked four seasons, touched every aspect of the amusement park business, and then left Americana at the end of their 1997 season and went to work as the Director of Advertising and Promotions for the New Cincinnati Mighty Ducks Hockey Team (the farm team for the NHL Mighty Ducks of Anaheim) that was run by Disney's sports division, Anaheim Sports.  At the completion of my third fun season with the Ducks, D1, D2 and D3 (just like the movies) I received a series of phone calls from several friends over at Paramount's Kings Island talking about new and exciting opportunities within their world-class organization.  After several months of interviews, I was hired as the Area Manger of Marketing Communications for Paramount's Kings Island beginning in 1999.  WOW…what a fantastic group of individuals…from the top down…a great, compassionate company to work for.  There we countless career opportunities and many life changing events that occurred while working for PKI including getting married to my wonderful wife Lisa and having our first child, Ryan.  I could write a book (maybe someday) just on my PKI experience; it was action-packed on day one and until I left on day 2,290 immediately prior to the Cedar Fair acquisition.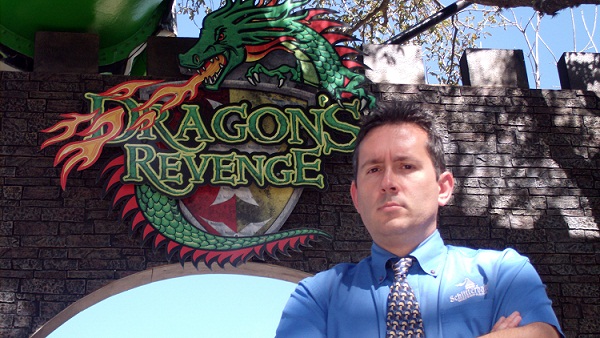 During the summer of 2005 I received a voice message from one of my good industry friends, Sherrie Brammall, that had worked for Schlitterbahn Waterparks for 16 years.   When I returned her phone call I had no idea what to expect.  In fact, I thought there might have been bad news to share about a waterpark-related incident.  Boy, was I happy to learn that she was calling to ask me if I would be interested in a job opening at Schlitterbahn Waterparks Corporate office…her position!  I caught the first flight I could to Texas to visit with the executive team and to tour the park.  I could not help but fall in love (if you can to a park) with Schlitterbahn.  The parks exemplify everything that is right with our industry:  great innovative attractions, beautiful locations, family-focused (free parking, no hidden charges, families can pack their picnics and bring them INSIDE the park), and great colleagues to work with.  What more could you ask for?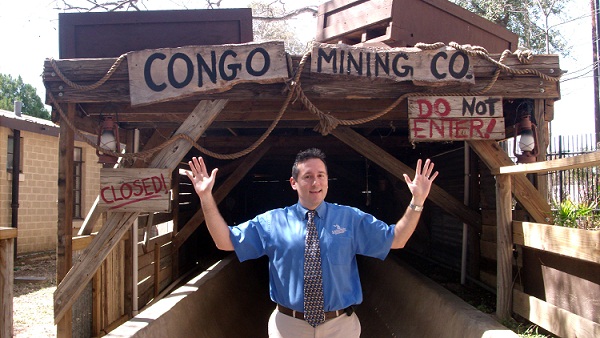 DR:  Tell us about your time working for Kings Island.  What years did you work for them?  (What an amazing park!  Such a variety of attractions.)
JS:  I worked for Paramount's Kings Island from 1999 to 2005…and in those years it was a whirlwind of new attraction additions including:  DROP ZONE: Stunt Tower – World's Tallest Freefall ride; FACE/OFF roller coaster; Son of Beast (also could be a book in itself) – world's tallest, fastest, only looping wooden roller coaster; Rugrats Runaway Reptar roller coaster; Wild Thornberry's River Adventure (a rebuild and retheme of the classic King Mills Log Flume); TOMB RAIDER: The Ride; Scooby-Doo and the Haunted Castle; Delirium; SpongeBob SquarePants 4D; Crocodile Dundee's Boomerang Bay; Italian Job Stunt Track; and the planning for Nickelodeon Universe.  I also had the opportunity to work on other projects for the company including Star Trek: The Experience in Las Vegas.
DR:  How about the various dark attractions at Kings Island?  There have been so many:  Adventure Express, Flight of Fear, Tomb Raider (now The Crypt), Enchanted Voyage (Smurf's Enchanted Voyage, Phantom Theater, Scooby-Doo and the Haunted Castle).  Which ones did you get to experience?  What were your favorites?
JS:  I have always loved darkrides, and I also truly believe they are significantly underrated as attractions that can drive the business and spin the turnstiles.  I was fortunate to ride all of PKI's darkrides, except for the original Enchanted Voyage.  That was already long-gone prior to my first park visit.  I always enjoyed Phantom Theater, but it was disappointing how quickly the popularity of this attraction fell, which definitely led to the easy decision to covert the attraction into Scooby-Doo and the Haunted Castle.  The line was just as long for this attraction on the day I left as when it opened…an extremely broad and re-rideable experience.
DR:  Shifting now to present-day, let's talk about Schlitterbahn Waterparks.  I must say that the concept of a waterslide darkride is brilliant.  It was done successfully by Water World in Denver with their popular Voyage to the Center of the Earth and Lost River of the Pharaohs indoor tube adventures and now Schlitterbahn in New Braunfels, Texas has its own Dragon's Revenge watercoaster/darkride and Congo River Expedition themed tube river.  Could you tell us a bit about how these two Schlitterbahn rides came to be?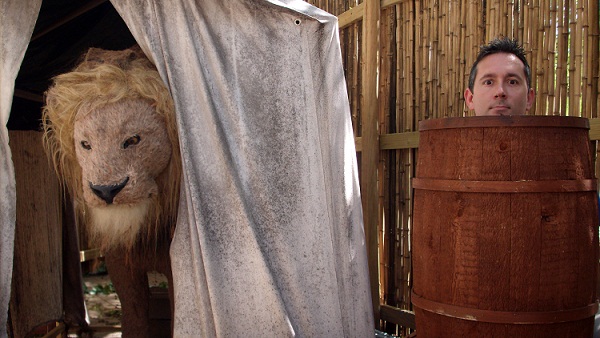 JS:  The idea inception for the Dragon's Revenge (World's Best New Waterpark Ride 2008) and for the Congo River Expedition (World's Best New Waterpark Ride 2009) is based on key learnings from my years at Paramount Parks.  In order for this concept to work you must have a fun conveyance device (in our case a Master Blaster water slide and a river with waterfalls and rapids) and an imaginative, immersive story.  We also have the advantage that our guests want to be wet…and the more water blasting, dumping or roaring the better.
DR:  Any plans to add more darkride-type attractions to the Schlitterbahn parks?  I must admit that after Dragon's Revenge opened, I envisioned Schlitterbahn someday building an entire water theme park full of elaborately-themed tube rivers and slides!  I can't wait to see what you guys come up with next!
JS:  There are all kinds of fun concepts we are working on…BUT…my lips are sealed…for now!
DR:  Ha ha…fair enough.  On the subject of waterparks, the original Schlitterbahn park in New Braunfels, Texas consistently wins the Amusement Today Golden Ticket award for best water park.  In your opinion, what truly sets this park apart to make it everyone's favorite year after year?
JS:  Schlitterbahn Waterpark resort not only has won the Golden Ticket Award as the World's Best Waterpark for 12 years in a row, but it is also the most attended summertime waterpark.  Why do droves of fans travel from around the worked to visit the waterpark you ask?  The park is simply awesome…our guests come back year after year because the vast majority of their day is spent playing in the water and not standing in line.  We have some rides that last up to 45 minutes floating downhill over waterfalls and rapids.  We have other technologies that interconnect all the attractions into an endless float…we call this "Transportainment".  The play value is unparalleled in our industry.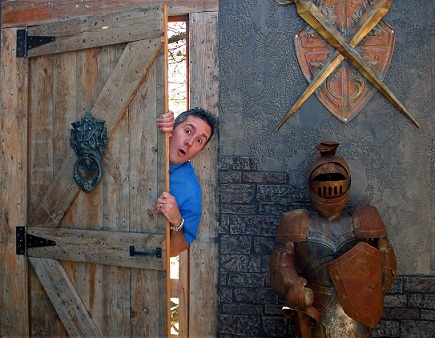 DR:  Amen to that!  So, with three successful Texas waterparks (New Braunfels, South Padre Island, and Galveston) and the newly announced fourth Texas resort in Cedar Park, plus the new Kansas City park well under way, can we expect Schlitterbahn to ride this wave of success and continue to build world-class waterpark resorts in new places?  Perhaps someday in Orlando or maybe an international location?
JS:  Lots of great news to come…my lips are still sealed.
DR:  With your job, I'm sure you've had the opportunity to visit many theme parks and amusement parks.  Which parks are your favorites, and why?
JS:  There are sooo many great parks in our industry…my favorite childhood memories are associated with Geauga Lake in Aurora, Ohio.  My brother and I would cry if we had to leave the park before the attraction lights turned on for the evening…and then once we were able to drive…we would drive to Geauga Lake after working our summer jobs to catch a few rides on the Big Dipper, Rocket Ships, or maybe even 12 rides in a row on the Raging Wolf Bobs.
DR:  How about darkrides and funhouses?  Any favorites?  What do you like about them?
JS:  I love Kennywood's Noah's Ark, Waldameer's Whacky Shack, Conneaut Lake's Devils Den and Dracula's Cave, Alton Tower's Haunted House, Phantom Manor at Disneyland Paris…I'm sure when I ride the Haunted House at Knoebels it will also rank high!  I love that you have no idea what to expect…at every twist and turn there is a new surprise.
DR:  What are your favorite memories from your years in the industry?
JS:  To highlight just a few favorite moments:  watching the Wallendas walk the high wire at Americana Amusement Park, getting run over on the ice during a Mighty Ducks hockey game by a go-cart (a little blood during this incident), standing at the top of the Eiffel Tower with the Paramount's Kings Island team watching Son of Beast thunder through its course for the first time, or watching my son's reaction when riding the Dragon's Revenge at Schlitterbahn for the first time.
DR:  Do you see any trends in the industry?  What will the theme park of the future look like?  How about the waterpark of the future?
JS:  The trend for us (Schlitterbahn) is to continue to build and design waterparks that are Transportainment-based so our guests may travel from ride to ride and around the entire park without ever leaving the water.
DR:  When you aren't working, what do you enjoy doing?  Any hobbies?
JS:  I'm soooo fortunate that my work and passion are the same.  When I'm not working, Lisa (wife), Ryan (5-yea-old son), and Madison (20-month-old daughter) are out enjoying parks and attractions.  We basically have season passes to every park you can think of…or at least friends that can sneak us in.
DR:  And finally, since DAFE members love to be scared, I must ask you, what scares Jeffrey Siebert?
JS:  As simple as it sounds…the flood light and buzzer blasting in a darkride make me jump every time.
DR:  Thanks, Jeffrey!!
For more information on what's new at Schlitterbahn Waterparks, visit www.schlitterbahn.com.