Inside the Industry
By: Derek Rochelle
Find this and many other interesting Inside the Industry articles inside of our quarterly Barrel O' Fun™ publication - one of the many benefits that a DAFE member receives.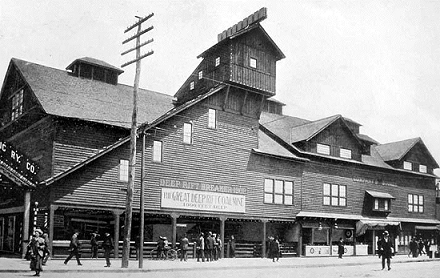 In this issue, Derek interviews Jim M. Melonic to find out how Black Diamond at Knoebels is progressing.
Derek Rochelle: Jim, in our last issue of Barrel O' Fun, I asked you about JMM's involvement in the Black Diamond project but you were sworn to secrecy at that point. You mentioned that JMM provided the script for the ride. What will be the main story for the journey Black Diamond riders will take?
Jim Melonic: The main story for the Black Diamond, is a history of coal mining in the surrounding area of Pennsylvania...mainly the working conditions dangers. Riders will experience everything from cave-ins, floods, fires, and that's just the beginning.
DR: Will the ride have exactly the same track layout it had in its former Golden Nugget incarnation?
JM:  Same layout mostly, some minute changes here and there but nothing noticeable.
DR: Golden Nugget was "old school" fun for its darkride portions, making use of long periods of darkness with glimpses of scenes and sudden sounds in the dark.  Will Black Diamond be different or will it also use lots of darkness to create a sense of mystery and surprise?
JM: We love the "oldschool" here at J.M.M. Studios, and riders will be able to see that in some scenes, but we gave it a twist with some modern techniques also. With a ride that was as well known as the Golden Nugget, we would have a hard time appealing to everyone if we went too modern with it, but at the same time we try to keep rides fresh and unique, and the technology in the industry that's come out since the Golden Nugget was made has helped us achieve that goal.
DR: Will the ride be entirely indoors or will it have outdoor sections like those on the Golden Nugget?
JM: The Black Diamond won't have as much outdoor exposure as the Golden Nugget did. We want riders to get the feeling of being confined underground, trapped even.
DR: Will Black Diamond be scary?
JM: Scary, disturbing, funny...that will be left up to the rider.
DR: Can you tell us about any particular scenes or effects?
JM: At one point in the mine you're caught in the middle of an explosion; we use lighting, sound, some animation and even a cloud of fog that engulfs your car, all to help disorient the riders.
DR: How close is the ride to completion?
JM: If we had to put a percentage to it, we would be 75% complete.
DR: Any other secrets you can share?
JM: Yeah, but we'd rather keep you in the dark...