Treasure Cave
Park: King's Dominion
Type: Funhouse
Class: Walkthrough
Manufacturer:
Opened:
Closed:
Awards:
DAFE Article:

Notes: Treasure Cave is a gentle darkened walkthrough for all ages. Located in the "Kiddieland" section of the park, it has a low "scare factor" with no mechanical or pop gags. Inside, you will find some narrow caves, stalactites and stalagmites, and some jewels and hieroglyphics (with Yogi Bear on the walls if you look hard enough) that you would expect to find in a Treasure Cave. The final corridor has a mild tilt house effect, complete with signs on the exit that you must hold hand rail! This is a wonderful, not-scary-except-that-it's-dark-type of attraction that fits nicely in with the other rides there, a perfect start for the young enthusiasts without terrifying them.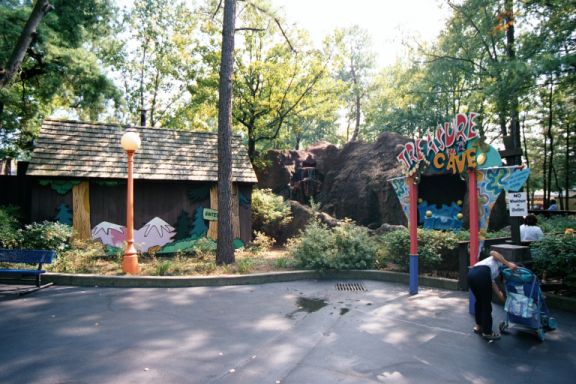 For corrections to this park information, or to send pictures, please email the webmaster.